While major problems are best left to professionals, do it yourself auto repairs are feasible for most jobs.  With some mechanical knowledge and basic hand tools, you can save a lot of money by working on your own vehicle.
In my DIY auto repair website, you will find out which are the vehicle problems you can fix yourself, and which are the ones you should seek the help of a mechanic. For simple do it yourself auto repairs, I have also included step by step instructions below.
Simple Repairs – Do It Yourself Auto Repairs
Spark plug replacement has always been easy for anyone with basic DIY auto repair knowledge and experience. In the past, keeping track of all the spark plug wires and not getting them crossed was the hardest part. These days, spark plugs can be sometimes harder to replace because ignition components no longer have to be changed as often.
This one is easy… Can't I just remove the old battery and replace with a new one? Yes, but hang on… Changing a battery is indeed a simple do it yourself auto repair but you must first make sure that your battery is the real culprit and exercise caution to avoid erasing the computer's memory.
Isn't this the easiest repair job ever?! Most cars have computer controlled alternators. This sometimes makes for a tough diagnosis. Click on the link above for do it yourself instructions on reparing alternators.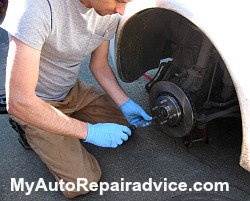 This is a very common do-it-yourself auto repair that most car owners can perform. To help you carry out this DIY auto repair, I have written many indepth articles (complete with picture) on how to diagnose and fix brake problems.
Just switch one tire with another, right? DIY mechanics need to know about rotating tires. Since so many cars are all wheel drive it is even more important that tires wear evenly. If they don't then you can be doing damage to various parts of your drivetrain.
It amazes me how engineers can make this basic do-it-yourself auto repair job so hard. It used to be that anyone could replace headlights in a matter of minutes. Things are much different now. Many times you actually will need to refer to an auto repair manual to replace a headlight bulb.
Other DIY Auto Repairs
fluid check
windshield wiper replacement
tire change
interior detailing
Before attempting any do-it-yourself auto repairs, make sure you have a complete set of tools and diagnostic equipment… plus a dependable auto repair manual.
To troubleshoot, repair and maintain your vehicle, you'll need diagnostic and repair information that is specific to your car or truck. For this I personally use and recommend ALLDATAdiy. With full manuals for over 30,000 vehicles online, you will find an exact match for your vehicle's year, make and model.
Besides being cheaper than a factory manual, they also offer step by step repair instructions and detailed diagrams beyond what is found in most printed manuals. Click here for a sample of their diagnostic and repair information.
Set aside half a day to read up and familiarize yourself with the steps for your DIY auto repair. The last thing you want to do is break something or replace a part that isn't bad because you didn't diagnose the problem correctly. Make sure that the repair that you're attempting is within your skill level and experience. If it isn't, turn to a friend with technical skills or a trusted auto repair shop.
Major Repairs – For Experienced Mechanics
While it can be done, repairing head gaskets is a very tough job and head gasket repair costs often add up to sizable figures. Whether you are going to repair it yourself (DIY auto repair) or take it to a mechanic, you want to be sure it is done right. This article will reveal what are the things to watch out for.
If you think that do if yourself auto repairs for radiators merely involves simple soldering, then you need to stop and read this first. DIY radiator repair is not what it used to be! This would have been an easy job back when automotive manufacturers used all metal radiators , but times have changed. Most modern car radiators are made differently so you will have to update your repair methods as well.
Can't I just get one of those refill kits from Walmart? That's what my friend did! Often mislabelled as a do it yourself auto repair, most air conditioning problems have to be fixed by a professional. Unless you have an A/C machine, this job should be done by a mechanic or auto shop trained in A/C repair. Find out why in this article.
If you are good at DIY auto repairs, you might be able to repair your airbags… but I almost always recommend leaving this job to the experts. It is just not a good idea for most home mechanics because there are so many things that can go wrong. That said, I have put together a few safety tips for those attempting to do it themselves.
Other Major Auto Repairs
major engine repair
alignments
axle replacment
wheel bearing replacement
If you still have any unresolved vehicle problems or questions, you can ask an auto mechanic online. For expert answers specific to your vehicle's make and model, I recommend JustAnswer Car. They have a large pool of certified mechanics to answer your questions for a small fee and you can also browse their answers to other users for free.
Sometimes it is actually cheaper to send your vehicle to an auto repair shop. For some jobs such replacing wheel bearings in certain vehicles, you will need specialized equipment to get the job done. It would take an auto technician just a few minutes to do, it would be impossible for you because you lack the required equipment (namely a shop press) to perform this auto repair yourself.
If you have a problem that you can't figure out, it might be worthwhile to take your vehicle to a reputable auto repair shop. A skilled technician with years of experience will be able to diagnose any faults accurately, saving you time and money that might be otherwise wasted on incorrect self diagnosis and do it yourself auto repairs that do not address the problem.
Source- http://www.myautorepairadvice.com/auto_repair_yourself.html